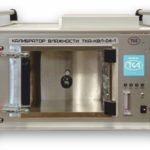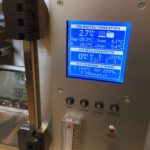 Humidity calibrator "TKA-KVL-04"
The calibrator reproduces the unit of relative gas humidity in the range from 4 to 96% and meets the requirements for working standards of the 2nd category; it is structurally a monoblock with carrying handles, in which a wet gas generator is located, a rectangular working chamber with a volume of 8.3 liters, controls.
Description
Appointment
Application area
Документы
Description
Main technical characteristics
Range of variation and maintenance of relative air humidity for a rectangular working chamber (volume 8.3  liters )
from 4 to 96%
Limits * of permissible basic absolute error of relative humidity measurement
± 2.0%
rel. ow.
Discreteness of setting the levels of relative humidity
1.0%
Accuracy of maintaining the set humidity level (not worse)
2.0%
Powering the Calibrator from Single Phase AC Power
220 V, 50 Hz
Power consumption (no more)
20 watts
Overall dimensions (WxHxD) (no more)
570x440x360 mm
Internal dimensions of the working chamber (WxHxD) (no more)
161x260x200 mm
Weight (no more)
15 Kg
Note *: error ± 2.0% – when using the TKA-KVLT thermohygrometer built into the calibrator. When using a thermo-hygrometer of a reference type as a control one (for example, Rotronic modification of Hygropalm) – the error of the calibrator in accordance with the type description for the corresponding thermo-hygrometer.
Device advantages
The ability to conduct temperature and humidity studies of devices in wide ranges of temperature and relative humidity.
Measurements directly in the outlet mixing chamber.
Does not require connection of external gas lines or compressed gas cylinders.
Long service life.
Leader in quality / price ratio.
Manufacturer support.
Designed to reproduce a vapor-air mixture with a given relative humidity, by mixing two streams of air, dry and wet.
The calibrator meets the requirements for working standards  of the 2nd  category; it is structurally a monoblock with carrying handles containing a wet gas generator, a rectangular working chamber with a volume of 8.3 liters, and controls. The working chamber has a transparent front door, in which there is a port in the center for installing the probe of a standard thermo-hygrometer. At the rear of the working chamber there is a control sensor of the built-in thermo-hygrometer, its information display is located on the front panel of the calibrator.
Calibrators can be used as a means of calibrating scales according to the relative humidity of hygrometers, as a means of calibration for periodic monitoring of hygrometer readings, as well as for verification of gas humidity measuring instruments, in stationary and field conditions. Calibrators can also be used as comparators when comparing readings of different hygrometers.