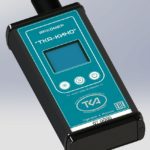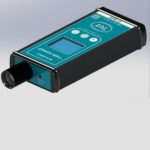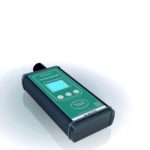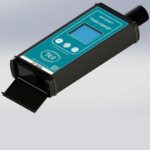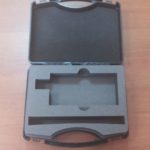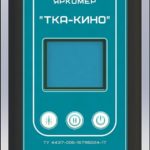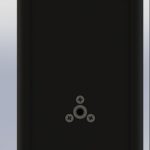 Luminance Meter "TKA-Kino"
Luminance of  distant extended objects: from 10 to 2,000 cd / m² (from 2.8 to 580 fL).
The price includes factory calibration.
CoE Declaration 2014/35 / EU
Supplied factory calibrated
TU 4437-006-16796024-17
Description
Appointment
Application area
Operating conditions
Equipment
Documentation
Description
Main technical characteristics
| | |
| --- | --- |
| Luminance  measurement range | 10.0 ÷ 2000 cd / m2 |
| Luminance  measurement range | 2.8 ÷ 580 fL |
| Basic relative error of luminance measurements | ± 6.0% |
| Nonlinearity error of light characteristics (no more) | ± 2.0% |
| Calibration error (no more) | ± 3.0% |
| Spectral correction error (no more) | ± 3.0% |
Overall dimensions of the device
Device weight (no more)
0.9 kg
Battery (non-removable battery)
2000 mAh
Auto power off
5.0
Charger voltage (micro USB)
5 V (500 mA)
Laser type: Class II, 630-670nm, laser output <5mW.
The built-in laser to indicate the direction of measurement and the backlight of the display greatly simplifies the work with the device in a darkened cinema. On the underside of the body there is a hole (1/4 inch thread) for mounting on a tripod.
The device is designed to measure the brightness of distant extended objects in the visible region of the spectrum. The device can be used to establish the compliance of the brightness levels of screens in cinemas with established standards, the brightness of signal lights, light boards, advertising screens, traffic lights, etc.
Areas of activity when it is required to measure high irradiance values ​​for a long time.
| | |
| --- | --- |
| Ambient temperature | from -10 to +40 ° C |
| Relative humidity | up to 98% |
| Atmosphere pressure | 80 ÷ 110 kPa |
Luminance Meter "TKA-Kino"
AC adapter
MicroUSB cable – USB 2.0 AM
Manual
Instrument case
Transport container