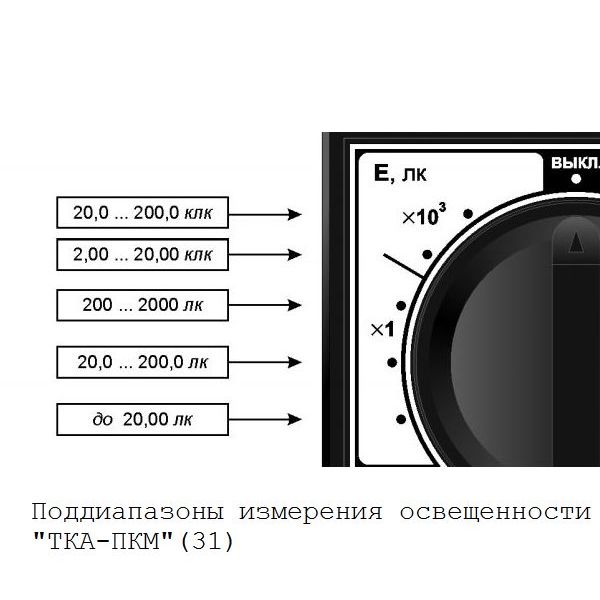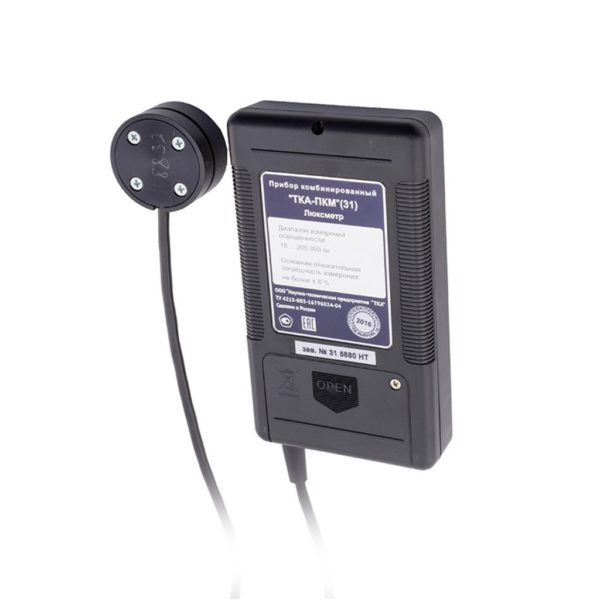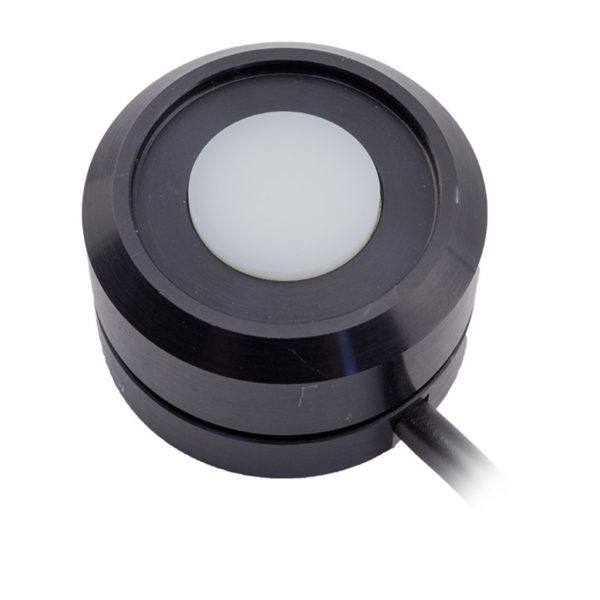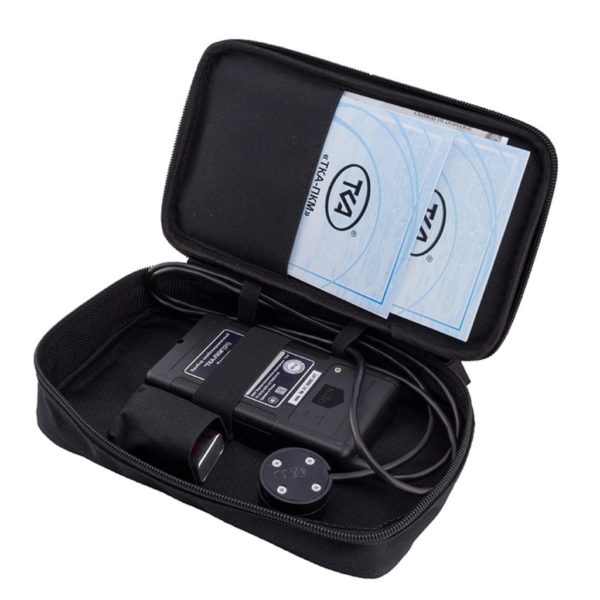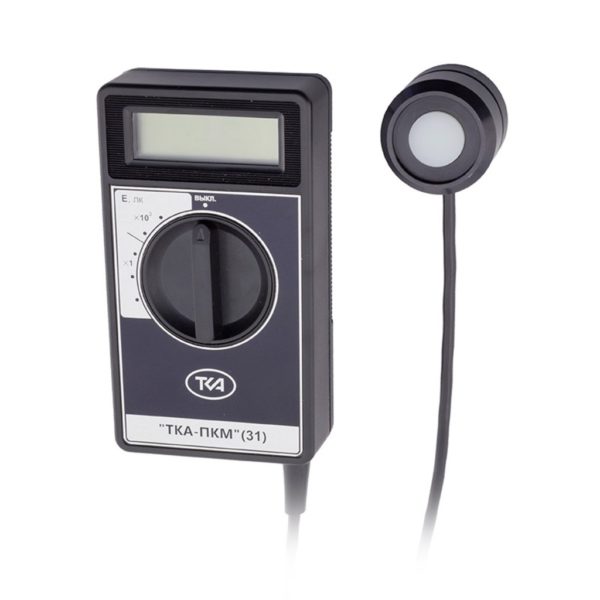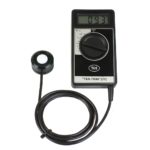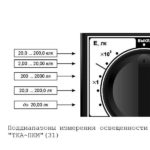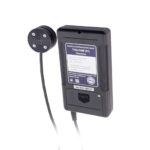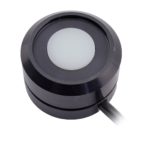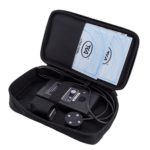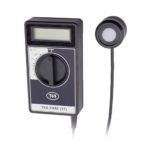 Luxmeter "TKA-PKM" (31)
Illumination : from 10 to 200,000 lux (PG ± 3.0%) in the visible region of the spectrum (380 ÷ 760) nm.
Operating conditions: from -30 to +60 ° С.
Included in the State Register of Measuring Instruments. Price includes verification.
No. 24248-09 in the State Register of Measuring Instruments of the Russian Federation
No. 02.2662-15 in the State Register of SI of the Republic of Uzbekistan
KZ.02.03.01379-2021/24248-04 in the State Register of the SI of Kazakhstan
RB 03 09 2660 20 in the State Register of SI of the Republic of Belarus
No. 38006 SI for military use
EAEU Declaration N RU D-RU.NA.41.B.01395 / 18 until 09.12.2023
EAES nomenclature of goods subject to foreign trade code 9025804000
TU 4215-003-16796024-2016 with rev. 2
Description
Appointment
Application area
Operating conditions
Equipment
Documentation
Description
Main technical data and characteristics
| | |
| --- | --- |
| Illumination measurement range | 10 ÷ 200,000 lx |
| Basic relative error of illumination measurements (no more) | ± 8.0% |
| Including the limits of the permissible relative error caused by the nonlinearity of the sensitivity of the device (no more) | ± 3.0% |
| Including the limits of the permissible relative error caused by the deviation of the relative spectral sensitivity from the relative spectral luminous efficiency (no more) | ± 5.0% |
| Including the limits of the permissible relative error caused by the deviation of the calibration by source A (no more) | ± 3.0% |
| Including the limits of the permissible relative error caused by the spatial characteristic of the photometric head of the luxmeter (no more) | ± 5.0% |
| The limits of the additional relative error of the device when measuring optical quantities, due to a change in the sensitivity of the photometric head when the air temperature in the measurement zone changes for every 10 ° С (no more) | ± 3.0% |
| Liquid crystal display | 3½ digit |
Overall dimensions of the device
| | |
| --- | --- |
| Measuring unit (no more) | 130 x 70 x 30 mm |
| Photometric head (no more) | Ø40 x 30 mm |
| Device weight (no more) | 0.22 kg |
| Battery – Krona battery standard size | 9 in |
The difference in the function of the relative spectral sensitivity of the photodetector was corrected by a system of light filters to match the function of the relative spectral luminous efficiency of monochromatic radiation for daytime vision V (λ) in accordance with GOST 8.332. The effective reference plane of the Luxmeter coincides with the front plane of the cosine attachment of the photodetector.

A well-proven light meter, reliable and easy to operate. Affordable price.
The device is designed to measure illumination in the visible spectral range (380 ÷ 760) nm.
Sanitary and technical supervision in residential and industrial premises, museums, libraries, archives; certification of workplaces and other areas of activity.
| | |
| --- | --- |
| Ambient temperature | from -30 to +60 ° C |
| Relative air humidity at an ambient temperature of 25 ° С | up to 98% |
| Atmosphere pressure | 80 ÷ 110 kPa |
Combined device "TKA-PKM" (31)
Battery type "Krona" (6F22)
Manual
Passport
Appliance bag
Transport container